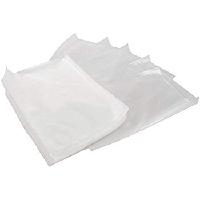 https://smile.amazon.com/gp/product/B01NAIU54Q/

Gallon-sized 11" x 16" vacuum sealer bags
Package contains 100 vacuum sealer bags
Compatible with Kill Shot KSVS12 Commercial Vacuum Sealer
Airtight seal helps prevent freezer burn and hinders bacterial growth
Vacuum-pack food saves storage space

Keep food fresh longer with gallon-sized Kill Shot Vacuum Sealer Bags. Compatible with the Kill Shot KSVS12 Commercial Vacuum Sealer, these bags will give you an airtight seal, preventing freezer burn on meats, veggies, fruits and more. Package includes 100 count, 11" x 16" vacuum-packing bags which hinder bacterial growth and save space for food storage.
Product Dimensions: 11 x 16 x 0.1 inches
Shipping Weight: 4 pounds
ASIN: B01NAIU54Q
Ships from and sold by Discount Ramps (1561 ratings, 94% positive)
Tested on our home vacuum sealer, works perfectly. Has channels on one side, smooth on the other. Some may prefer channels on both sides to help get the air out.