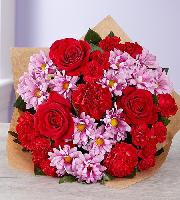 Florists.com has Mixed Purple Passion Bouquet for Mother's Day for $35.99.
Mixture of lavender daisies, red roses, red carnations, and red mini carnations
Shipped in a gift box overnight from our flower farm
Arrives in budded form
Flowers will bloom in 2-3 days.
Shipping is free Tues-Fri with a surcharge of $7.99 on Saturday orders.