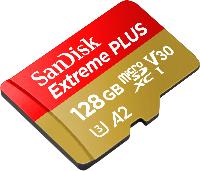 Was $67.99, now $29.99 on BestBuy
https://www.bestbuy.com/site/sand…Id=6282919
Compatible with most devices that support microSDXC cards
For wide-ranging use.
128GB storage capacity
Provides plenty of space for your photos, videos, documents, and other data.
Up to 170MB/sec. read speed
Along with an up to 90MB/sec. write speed saves you time when transferring files.
Includes microSDXC to SD adapter
Allows you to use this card with SD adapter slots
Rugged construction
Resists damage due to shock, water, X-rays and temperature.