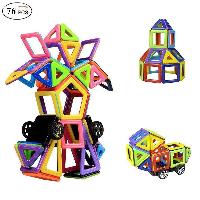 76 Piece Mini Magnetic Building Blocks Set Toys $9.99 + Free Shipping
Develops fine motor skills.
We use high-quality construction for long-term use.
Instruction booklet included to help your child to easily start building the basic forms and free storage bag to keep toys all in one place for easy clean-up.
Develop your imagination & creativity by opening up thinking to motivate creativity.
Problem Solving skills develop while creating new shapes and designs.
Rich colors and variety of shapes help with shaping recognition to develop cognitive ability.
What's in the box?
?26 plastic letter cards(size: square 3.5cmx3.5cm),
?2 pentagons(size: side length of 3.7 cm),
?2 pairs of wheels(size: 6.2cmx4cm),
?20 squares(size: side length of 3.8 cm),
?22 equilateral triangles(size: side length 3.2 cm),
?4 long triangles(size: 3.6 cm x 7.1 cm x 7.1 cm).
?1 storage bag
?1 manual