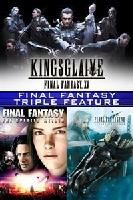 Microsoft Store
For those interested
Note, be sure to purchase the "HD" format. All films listed are Movies Anywhere compatible.
Purchase any of these films ( films below qualify) and Get Up to $8 Off a Ticket to see Spider-Man: Far From Home (code will be emailed within 72 hours of purchase) [ Terms & Conditions ]
Also, looks like last day for these savings as well.
Final Fantasy Triple Feature (Digital HD Films) – Available in English or Japanese

$11.99 (also dropped $1 from when it was )

Includes

Final Fantasy: The Spirits Within
Final Fantasy VII: Advent Children
Kingsglaive: Final Fantasy XV