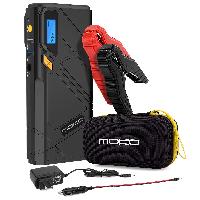 Howdy!
I was looking for a jump starter, but all deals were expired or were in store. Find that when I was looking into Amazon. Red color is $56.99 but yellow one is for $40. Good deal imo. Says limited deal.
Note: There are some negative reviews after long usage, but comes with one year warranty.
https://www.amazon.com/MoKo-12000…NNA&sr=8-7
MoKo 1200A Peak Car Jump Starter, 12000mAh Portable Power Bank Battery Booster (Up to 6.5L Gas, 5.2L Diesel Engine), with 2 USB Ports, Fast Charging and Emergency LED Flashlight – Yellow
Enjoy!