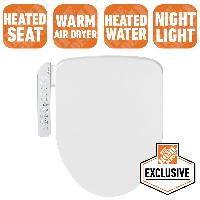 It's a Home Depot exclusive… I can't find a comparable model on bioBidet's website.
For $199, seems like a great price point for something that has both heated seat and dryer. Both round and elongated are the same price.
https://www.homedepot.com/p/bioBi…/309404961
The HD-7000 comes with our improved Fusion Heating Technology that allows you to control the temperature of your wash from start to finish without the water ever going cold! The Stainless Steel, Self-cleaning 3-in-1 Nozzle is designed to provide you with the best posterior wash, most comfortable feminine wash, and effective turbo wash. The adjustable water pressure allows you to change from a soft sitz bath, to a more focused turbo wash. The nozzle oscillation feature allows you to hit every spot in-between with the touch of a button. The Bio Bidet HD-7000 is a great way to experience, why we believe water does it better. Join the movement and add clean technology to your home. Simple solutions, smart home, Bio Bidet. An electrical outlet required.
Stainless nozzle
Oscillating nozzle
Wide cleaning
Massage cleaning
Satisfying posterior cleaning
Soft feminine cleaning
Turbo wash
Self-cleaning nozzle
Child wash

Convenient side panel
3-in-1 nozzle
Adjustable heated seat
Adjustable heated water
Night light
Intelligent body sensor
Slow closing seat and lid
1-year limited warranty