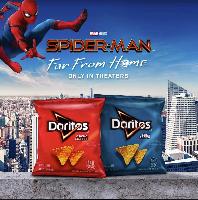 Buy Doritos 40ct. Receive $14 Fandango Promo Code Free to view Spider-Man: Far From Home on Walmart.com $14.98 ea.
_____________________________________________________________________
Rules/FAQ/Terms
FAQ:
When will my code be delivered?
You should receive a confirmation email on your purchase within 60 minutes of completing your order on Walmart.com.
After the order is processed; typically 24 hours after your transaction, you should receive the Fandango Promo Code.
Who will the email come from?
You will receive an email from help.walmart@katori.com with the code.
Is this bundle available for instore pick up?
No.
How do I redeem the Fandango code?
The email with your Fandango Promo Code will contain redemption instructions specific to the offer.
Be sure to save your email with the code and instructions until after you've used the digital ticket.
How quickly will I be able to use my Fandango Promo Code?
You can use the ticket to see Spider-Man: Far From Home starting July 2, 2019.
What is the value of the Fandango Promo Code?
Each Fandango Promo Code has up to a $14 total ticket value.
If my movie ticket costs more than $14 will the Fandango Promo Code still cover the full price?
If my ticket is less than $14 do I get a credit to use it on another ticket?
No, the code will only fully cover a ticket that is $14 or less.
If your ticket is significantly less than $14 you will not receive a credit for the remainder of the Promo Code value.
If I order three packs will I get three Fandango Promo Codes?
No, you will receive two codes. Codes are limited to 2 per household.
Can I use this Fandango Promo Code on other movies?
No the Fandango Promo Code is only good towards Spider-Man: Far From Home.
Can the promo code apply to more than one ticket?
Each Fandango Promo Codes can only be used on ONE ticket.
Whether your movie ticket is more or less than $14 the code is limited to one use.
Terms and Conditions:
Fandango Promotional Code ("Code") is good towards one movie ticket (up to $14 total ticket and convenience fee value) to see Spider-Man: Far From Home. Code and is void if not redeemed by 9/15/19 or when Spider-Man: Far from Home is no longer in theaters, whichever comes first. Only valid for purchase of movie tickets made at www.fandango.com or via the Fandango app and cannot be redeemed directly at any Fandango partner theater box office. If lost or stolen, cannot be replaced. No cash value, except as required by law. Not valid with any other offer. One-time use only. Not for resale; void if sold or exchanged. If cost of movie ticket with Fandango's convenience fee included is more than maximum value of the Code, then user must pay the difference. Limit 2 Codes per household. Fandango Loyalty Solutions, LLC is not a sponsor or co-sponsor of this program. The redemption of the Code is subject to Fandango's Terms and Policies at www.fandango.com/terms-and-policies.