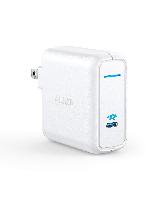 For those who missed out on the RavPower deal from a couple days ago, here's a similar charger on sale.
https://www.amazon.com/gp/product/B07PP1W7S8
Use Promo code: KINJA263
One downside vs the RavPower one ( ) is that this one is slightly bigger at 2.4 x 2.3 x 1.1 inches, but one upside there is that this one is 1.1 inches wide vs the RavPower which is 1.2 inches. As a commenter on the previous deal mentioned, "this is "1.2" wide, so it doesnt quite fit side by side on power strips, which are standard 1.1" spacing" ( )
Another possible benefit is that the brand Anker is more well known than RavPower, although many users of RavPower products like myself haven't had any issues with them.