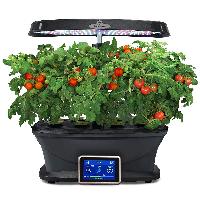 Amazon via Woot is selling the AeroGarden Bounty Wi-Fi for $199.99 was $329.95
I have been watching these for awhile this is the cheapest I have seen this model go for.
INCLUDES GOURMET HERB SEED KIT (9-POD) -Genovese Basil (x2), Thai Basil, Curly Parsley, Italian Parsley, Thyme, Chives Dill, Mint & a 3oz bottle of our patented, all natural Plant Nutrients (enough for a full season of growth)
MORE VARIETY – Up to 9 plants can be grown at a time, up to 24" tall in your indoor garden. Plants grow in water,not soil. Advanced hydroponics made simple
INTERACTIVE SMART GARDEN – manage all AeroGarden features from setup through harvest using your app. Receive helpful reminders to add water and nutrients, and easily access insightful tips and one-touch customer support to help you get the most from your hydroponics growing system
LED LIGHTS – High-performance, full spectrum 45-watt LED high efficiency grow lighting system in your herb garden is tuned to the specific needs of plants to maximize photosynthesis, resulting in rapid, natural growth and abundant harvests
IN-HOME GARDEN SYSTEM – Grow fresh herbs & veggies all year round in this indoor herb garden. Always fresh, always local, always in season
https://www.amazon.com/gp/product…UTF8&psc=1
Sorry in advance if this was already posted.