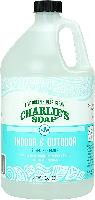 MULTISURFACE USE – Cleans just about everything from false teeth to diesel engines.
For decks, cars, boats, bikes, driveways, siding, walls, pets, hands, engines, furniture, grills and more
SAFE AND EFFECTIVE – Contains no abrasives, lye, phosphates, bleach, dyes, perfume or fillers. Safe for all washable surfaces
NON-TOXIC – Water based formula breaks the bonds between soil and surface to gently releases grease and grime. No gloves necessary

BIODEGRADABLE – Environmentally safe surface cleaner is made with natural ingredients to tackle any heavy-duty jobs
EASY TO USE – Just spray on, scrub, and rinse off. Leave on for 30 minutes for tougher to clean projects
Note: Amazon Prime members may also earn a $1 No Rush Shipping credit valid toward the future
purchase of select digital eBooks, music, movies, or TV Shows ( ).