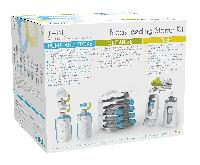 Kiinde Breast Milk Storage Twist 28pce. Starter Kit $17.99
Walmart

Featuring

20 Twist pouches
Breast Milk organizer

Two bottles
Three different flow nipples
Two nipple brushes

This kit has everything that you need to get started.
The Kiinde Twist system eliminates the need to pump breast milk into bottles and then transfer to bags for freezer storage.
Moms can pump, store, organize, warm and feed using the same Twist pouch.