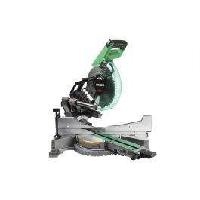 This is lower than amazon and lowest by ~$100 according to CCC.
https://bigskytool.com/catalog/pr…MifQ%3D%3D

The Hitachi C10FSHC 10" Sliding Compound Dual Bevel Miter Saw with Laser Marker is designed to deliver a professional finish. It is equipped with a zero rear clearance slide system that decreases the footprint of the saw by up to a foot, enabling the saw to sit flush against a wall or on a benchtop without compromising the range of movement. The C10FSHC also features Hitachi's first up-front bevel lock for quick and easy bevel adjustments along with miter detent override for faster transitions between miter angles. The adjustable tool-less laser marker and LED light give the user accurate cuts and visibility right where it's needed.
Enjoy!