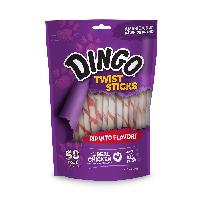 https://www.amazon.com/Dingo-Rawh…way&sr=8-4
Dingo Twist Sticks (50 pack) are on sale for $5.39/pack, but if you spend $40 you get a $10 discount. Once you subscribe and save, This makes each pack only cost $3.87 if you buy 8 packs+tax, free shipping over $35 or with Prime. 10-15% more if you have more items in your subscribe and save, making it even lower.
Link to the $10 off promo:
https://www.amazon.com/gp/promoti…KMAPQ3MINK
Some vets recommend not to give pets rawhide, that is your own decision. My dogs eat the meat part and leave the white part of the rawhide, so I have no qualms feeding these to them.
Also Target is sold out of these, and since most stores are sold out they don't qualify for the promo (as it requires same day pickup to qualify for the pet promo), otherwise I would have linked Target since it has the chance at 5% discount with red card.

Order Summary
Items (8): $43.12
Shipping & handling: $0.00
Subscribe & Save: -$2.16
Multibuy Discount: -$10.00
Total before tax: $30.96
Estimated tax to be collected: $2.56
Order total: $33.52