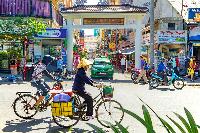 Skyteam member Xiamen Airlines have round trip airfares travelling from Los Angeles (LAX) to Ho Chi Minh City Vietnam (SGN), making long stopovers in Xiamen. Both stopover are 10-15 hours so plan ahead! I know someone who was in Xiamen recently and she said it was beautiful….so maybe see if you can go out and explore!
Travel Availability:

Departs LAX: Nov 10, 12, 17, 26, 28; Dec 3
Returns: Nov 13-14, 16-19, 23-24; Dec 2-5, 9-10, 14-15, 21-26
;
Use dates and book it on your reputable and known OTAs such as Expedia , Kayak , Orbitz , or Priceline .
Want to see more travel deals? Click or .
Image Credit: Lonely Planet
.