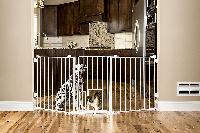 On sale on Amazon:
Carlson Pet Products 76-inch Flexible Pet Gate for Wide Openings with Cat Door

Size: Tall 30" $109.99 $27.80

?Carlson flexi pet gate is configurable and perfect for unique openings.
The all steel construction is chew proof and perfect for pets.
This 30-inch tall gate expands up to 76-inches and even further to 13-feet by adding additional extensions.
A simple wall mount system makes installation a breeze.
Shipping is free for Prime members.