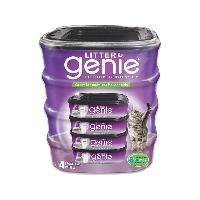 Seems like a good deal for the replacement packs, at $4.72 per count. This 4-pack should last "up to 8 months". Cheapest from Amazon was $26.28 and cheapest from 3rd party seller was $23 in the past year.
https://www.amazon.com/gp/product…UTF8&psc=1
Additionally, at Petsmart, I saw a coupon in B&M for a FREE litter genie kit + 1 refill (27.99 value) with mail-in-rebate. I didn't post this separately because I didn't take a photo. This was at Mountain View, CA Petsmart a few days ago.