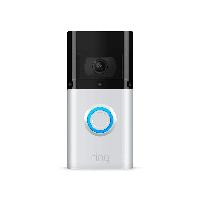 Amazon has early access Prime Day Deal on Ring products. For their Ring Video Doorbell 3 Plus (retails for $229), you get $70 off, and an extra $30 off for ordering via Alexa.
https://www.amazon.com/dp/B07WLP395R/
If you charge this to an Amazon Prime credit card, then you also get 25% cashback, effectively making this $97
If you have an old Ring Video Doorbell to trade-in, you can get this even cheaper (although alexa $30 discount doesn't appear to stack):
For example, $15 trade-in credit for Doorbell v2, plus 20% off:
$229
-$70
-$46 (20% trade-in discount)
-$15 (trade-in value)
= $98
You also get 25% back in cashback on Amazon Prime credit cards, making this ~$75 when all is said and done!