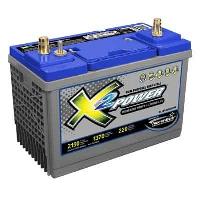 X2 Power AGM Group 31 battery $348.50
Batteries Plus Bulbs 15% off today only Order online Free Store pickup.
Use Code "Social15"
https://www.batteriesplus.com/pro…li31agmdpm
Now I know Batteries Plus Bulbs normally has 10% off daily, but the extra 5% got me to bite on these batteries.
Never too early to start thinking about boating season, i needed replacements for my 2 lead acid batteries that died this past fall for my trolling motor. Been looking at these to upgrade.
Long history in a couple sentences. Original maker of Odyssey batteries was bought out, moved on and started Northstar batteries. Same company that bought out Odyssey bought out Northstar (x2power made by northstar) this past year or so. Unsure if these batteries are going to be available at this price anymore once the current inventory gets depleted. Similar spec Odyssey batteries are 50 dollars more.
No maintenance , vibration resistant.