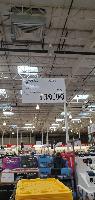 Must be a member. Price is in-store only and good through 1/17/21. Not a hot price, but a good price for anyone needing one.
It's similar to this Edsal product at Lowe's
The only difference is that it says 1500lb limit, while the Costco box says 2000lb limit per shelf. I have to imagine the crossbars across the shelves are thicker on the Costco unit.
I own the 3-tier model and love it. Super easy to setup, and doesn't require tools. I have landscaping materials like limestone, bags of dirt and fertilizer and the shelf easily supports the weight.