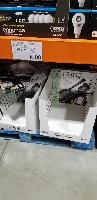 I found these smart outdoor wifi plugs at Costco. It doesn't have the asterisk like the clearance items have but it was marked down to $8. There was a deal back in December on these for $19.99.
https://www.feit.com/product/outd…assistant/
Link to Costco product page, this deal is B&M only.
https://www.costco.com/feit-elect…15906.html
Found at the Costco in Culver City SoCal area.