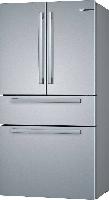 If you're in the market for a Bosch 800 series refrigerator, you know this is a good deal but very YMMV. This is 25% off.
I called a local store in NJ which had shown limited stock of this fridge for $2,459. They had one new in box in stock (Lowe's will generally show 1 more in their inventory system than brickseek or Lowe's website indicates). A few other stores in New Jersey had at least one in stock and I checked a few other zip codes around the county. Bottom line, if BrickSeek shows limited inventory, call or visit the store directly to see if they have in stock.
WAS TOLD DEAL ENDS WED FEB 10TH, SO ACT FAST!
USE THIS BRICKSEEK LINK AND POPULATE WITH YOUR ZIP CODE TO FIND POSSIBLE INVENTORY IN A STORE NEAR YOU
https://brickseek.com/lowes-inven…1000973168
For product reference only (does not reflect pricing):
https://www.lowes.com/pd/Bosch-80…1000973168
Note: This is a ymmv deal, so won't be available to all users. If you don't see the OP's price, try another zip code or store.