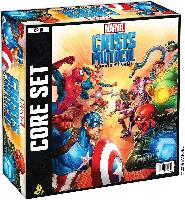 I've been looking to get into tabletop games and miniatures for the last few weeks and Crisis Protocol caught my eye. Usually $80 online, $100 in-store. Seems like an easier way to get into the hobby than Warhammer or Star Wars Legion.
https://www.amazon.com/Atomic-CP0…07WNKW1DT/
Note: The miniatures come unassembled and unpainted. For most people that's half the fun, but be aware of the process you'll need to go through before you can play for the first time.