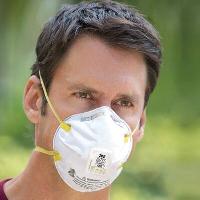 For those who don't need 100 like the other deal, and don't want to worry about getting fakes, this place has been selling n95s for a long time and are a trusted source.
Also, lots of people still think valved n95s only protect the wearer. The CDC studied exactly this, and found that valved n95s are on par with, and sometimes better than, cloth masks and surgical masks at preventing spread. Not intuitive, but it boils down to a couple of things:
Cloth and surgical masks rarely seal properly, and don't have very high filtration in the first place.
Valved masks don't only push breath out through the valve, some is filtered through the mask as well.
They also found that covering the valve with something like surgical tape on the inside is far more effective than a second mask, and makes them nearly as effective as a non-valved n95.
Check it out here:
https://www.cdc.gov/niosh/docs/2021-107/default.html?
https://www.northernsafety.com/Pr…sks-10-Box