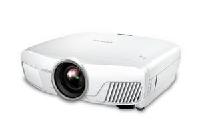 Some notes for potential buyers:
Epson doesn't allow returns on refurbs. They will replace it if there are any issues within 30 days. After that it is normal warranty procedure and you may have to to send it in. They still replace the whole unit though.
Epson is notoriously bad at refurbishing. Great prices but inspect your projector as soon as you can. Some people have to go through a few to get a good one and you want to try to do this within the 30 days of first purchase. I needed to send my first one back.
The HDMI jack on this is limited to ~10Gbps so no 4K HDR @ 60hz. But you can get 4k HDR @ 30hz/24hz as long as you have the right streaming box or BD player to do it. Some streamers require 4k/60hz to do HDR. Apple TV 4K is my recommendation for most seamless install
Some tips on things to look for when inspecting:
Check the housing/buttons for any major defects (it should look like new)
Check the lens for any physical defect
Make sure the auto lens cover fully opens and closes when turning on and off the projector

Display the built in alignment pattern and shoot the projector on anything large and light colored then:

Check alignment/sharpness up close, a lot of color convergence issues can be fixed with the built in controls
Check the full range of the motorized lens, focus and zoom

Look at solid white and solid black images for any major issues, particularly dust blobs on an all black screen
Look at text on a black background and make sure there aren't halos or smears around the text. It's not like an LCD TV, there shouldn't be blooming
And lastly, what happened to me, check various content to make sure you don't get any strange color banding/blooming. I got it with blues.
If you're curious, here's how to get to the service menu. Here you can see how many total hours the projector has and how many bulb changes it has had. It should always come with a brand new bulb.

To view the After Service (AS) menu, press and hold the Menu button on the remote or the projector's control panel for at least 8 seconds, then release it. Within 4 seconds of releasing the menu button, press the ESC button twice.