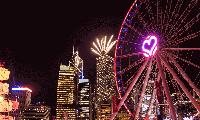 another great fare to asia!
American Airlines and Expedia have round trip airfares travelling from Philadelphia (PHL) to Hong Kong (HKG) for $379, making 1 stop. These are 'basic plus bag' fares where it includes one personal item, one free carry-on and 1st checked bag free. There are no ticket changes and no seat selection.
Travel Availability:

Departs PHL: Sept 27-30; Oct 25-28; Nov 1-3, 8-11, 15-18, 23-25, 30; Dec 1-2
Returns: wide and great availability returns Monday thru Thursday except Nov 14-17
To book this deal, use dates and book it with Expedia or American Airlines directly. Want to see more travel deals? Click or .
.