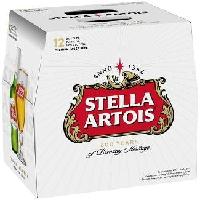 A few weeks ago I posted deal on Heineken beer at Target that involved two rebates. Both rebates worked and the beer was just $5 after the rebates. There is now a similar deal on Stella Artois beer at Target -
Stella Artois 12 Pack Bottles
Stella Artois 12 Pack Cans
Both bottles and cans are $14.99 for a 12 pack. There is a $3 Target Circle offer on the pages. You add the rebate to your Target Circle account and scan the Target Circle barcode on your cell phone when you check out. Very quickly you will get an email offering to cash out the $3 rebate using PayPal, Venmo, etc. I received the $3 in my PayPal account within 30 minutes of purchase. Note that this $3 rebate is limited to AZ, CA, CO, FL, IA, IL, KY, MA, MI, MN, NM, NV, NY, OH, OR, TN, VA, WA, WI.
There is also a $5 rebate for 12 packs of Stella Artois on this website (search Stella Artois in your state or use offer code AB-3824) -
Beermoney.pro
You submit the $5 rebate by taking pictures of the receipt and barcode with your cell phone. I've received an email acknowledging submission of the rebate, but they are mailing a debit card to me, so I won't get it for a few weeks. This $5 rebate is limited to AK, AZ, CA, CO, CT, DC, DE, FL, GA, IA, ID, IL, KS, KY, MA, MD, ME, MI, MN, MS, MT, ND, NE, NH, NJ, NM, NV, NY, OH, OK, OR, PA, RI, SC, SD, TN, VA, VT, WA, WI, and WY.
After both rebates, the price of a 12 pack of Stella Artois in either bottles or cans is just $7. It may seem like a lot of hoops to jump through, but it was actually very quick and easy. You just have to wait for the $5 rebate, but both rebates came for the Heineken deal I posted several weeks ago (now expired) -
YMMV based on state of residence and whether both rebates actually go through. However, the rebates appear to be from different sources, so they should both go through.