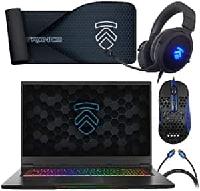 Amazon Link @ $1999
Any love for 17.3" gaming laptops here? I believe this thing is one of the best for gaming on the market. It's super light, is made with magnesium alloy, and comes with a high-density (170ppi) QHD IPS panel with plenty of power under the hood.
Liquid metal comes STOCK on this 8 core, 16 thread Intel 10875H with a 1 year standard warranty.
The RTX 3070 comes with an extra power boost in this model.
The battery is almost as big as they come – 91WHr.
The NVMe SSD is basically Samsung's OEM version of the 970 Evo.
Eluktronics is a lesser-known brand that has been picking up traction in the tech community and is growing a stellar reputation as a first-rate laptop boutique. They typically boast class-leading performance in both processing power and graphics scores. The MAX-17, as I understand it, is their premium positioned thin-and-light notebook.
I have no affiliation with Eluktronics but am in the market to buy.
The price is $200 off of Amazon retail price and competitive with similar products. Oh, and it comes with peripherals as a bonus! The price of the laptop alone with the same spec on Eluktronics.com is $2249.