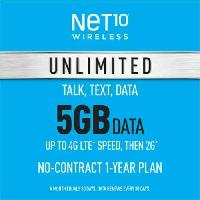 Tracfone Wireless | eBay
1-Year Net10 Unlimited Talk & Text + 5GB LTE / Unlimited 2G (per Month) Prepaid Plan

$159.99 ($13.33/mo.) w/ coupon INSTANT20
Check if you also qualify for 5% ( $8) back in eBay Bucks here (YMMV)

Deal Notes:

Free SIM Card Kit & Free Shipping.
You may bring your number to Net10 from your current carrier or have a new number assigned during activation.
Check your device compatibility here (T-Mobile, AT&T or Unlocked GSM compatible smartphone needed)
Click here to check Net10′s coverage map in your area
Net10 is is an affiliate company of the Tracfone family (consisting of Tracfone, Net10, Total Wireless, Straight Talk, Safelink, Simple Mobile, PagePlus and Walmart Family Mobile)
No contract, prepaid service (cancel any time).