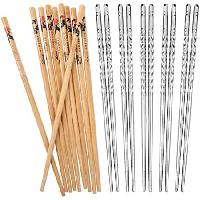 TWO MATERIALS IN ONE SET: This set includes 5 pairs of metal spiral chopsticks (8.8") and 5 pairs of bamboo chopsticks (9.4"). No more struggling with the choosing between bamboo chopsticks and metal chopsticks. Don't hesitate! Have two types of chopsticks just in the budget of one set now with HIWARE !
STAINLESS STEEL CHOPSTICKS: The metal chopsticks are made of food grade stainless steel, but not heavy to use or carry. The spiral craft of the chopsticks provides easier hold and nice look while the grooves on the front end give anti-slippery grip which gives you a user-friendly feel. Moreover, they're perfectly sturdy and durable and well balanced that will work as great as you think.
NATURAL BAMBOO CHOPSTICKS: The reusable bamboo chopsticks are well polished and have a food-grade protective coating on them which can effectively prevent stains and discoloration. They're very friendly to novices for its rectangular shape where can grip much easier. Besides, there's Chinese poem written on the chopstick that gives them an aesthetic look.
DISHWASHER SAFE AND REUSABLE: The chopsticks are totally dishwasher safe and reusable which means you have done your part to protect the ocean and nature.