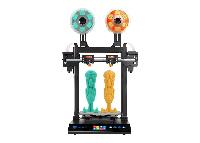 If you ask yourself, what an IDEX 3D printer is: IDEX is short for independent dual extrusion (system). It means the printer has two extruders which can operate at the same time, for example for printing a copy of the same model on the left and right side of the printbed simultaneously. Or you can use them to print one model with two different colors or two different kinds of material, of which one can be a soluble filament for support structures.
Make sure to select the shipping option from the US warehouse.
Use the following discount code: 3KNEZD
https://www.jgmaker3d.com/products/artist-d-pro
The next best price for the pro version is $589.
There's also a discount code for the non-pro version : 7SBMFY
You can get it for $399 instead of the next best price of $429.
The differences are that the pro version has a brand name Meanwell power supply while the standard Artist D version doesn't. Also the pro has a touch screen while the standard version has a rotary knob to control it. And the stepper drivers are TMC2209 on the pro and TMC2208 (also silent drivers, but the 2209 run cooler and have stallGuard).
I bought an Artist D Pro a while ago as an addition to my 3d printer collection. So I can try to answer your questions in the comments. It's relatively cheap for an IDEX printer, if you look at the price of the Raise3D products for comparison for example.
Details about the pro version:
Large Build Volume: Large single models up to 300mm x 300mm x 340mm, or by utilizing its "double" or "mirror" modes, print two of the same model at the same time, up to 111mm x 300mm x 340mm.
Quick Nozzle Replacement: Featuring an Extruder module with an innovative one-button "Nozzle Eject" system, Artist-D (Pro) allows you to easily swap nozzles, or quickly replace the nozzle in the event of a clog.
Dual Z-axis Design: Two Z-axis screws and stepper motors drive the vertical axis of the Artist-D (Pro) that will improve accuracy and precision, resulting in a specified Z-axis accuracy of 0.001mm to make this a truly professional level printer.
Easy to assemble, Two-step Modular Design: The Artist-D (Pro) requires no special skills to assemble. The Artist-D (Pro) allows for a rapid assembly, and it's simple even for inexperienced users. You can easily assemble it in about 5 minutes. Then just plug it in and turn it on.
Support Water Soluable Material: Artist-D (Pro) can print with soluable support filament such as PVA to produce more complex parts.

Magnetic Spring Steel Plate ensures your print can get a good grip to it, to help prevent warping and failed prints. allows you pop off the prints without any tool, just spring the plate and your print will pop off.
Linear Rail: Artist-D (Pro) is built with industrial-grade parts—such as the X-axis linear rail—to deliver smoother performance with less friction and higher precision.
Filament Runout Detector: In the event of your filament running out, the Artist D will detect this and pause your print so you can fit a new spool of filament and resume the print, saving you from failed print.
Direct Drive Extruder: Less torque from the motor is required to push the filament. It is capable of handling a variety of materials including PLA, TPU, PETG, ABS, PVA, Wood, etc. It typically provides a more accurate extrusion and allows for faster retractions. Also you will have far less trouble printing flexible materials like TPU.
32 Bit Silent Board: Artist-D (Pro) comes with a high-performance 32-bit mainboard, equipped with silent stepper motor driver chips. So you can enjoy a quiet printing environment.
Dual Clean Brush: This brush can prevent the inactive nozzle from dripping material on the print, spoiling the finish.
Clean Internal Wiring: it works well and it's easy to maintain without having too many wires getting in the way.
Power Resume Printing: Use the Printing Pause option if you want Artist-D (Pro) to stop printing immediately or change filaments of different colors or materials. Just pause, reload, and resume. You can also resume printing if the SD card is removed accidentally. Just reinsert it, and you can continue printing.
Thermal Runaway Protection: This function ensures the Artist-D (Pro) 3D printer shuts down its heating parts when it detects that it can no longer properly control its temperature. This helps prevent a catastrophic fire hazard to your machine.