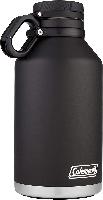 https://www.amazon.com/dp/B076JRK1XQ/
Ships in 2 to 4 weeks. It said that when I placed an order two hours ago and I just got an order update that says September 5th delivery now.
Some reviews call the claimed hours for cool beverages into question but those are commonly inflated and for a $20 for double walled 18/8 stainless 64 oz growler is a steal (Costco's popular Reduce growler is only single walled).
Durable, double walled, vacuum insulated 18/8 stainless steel design keeps beverages hot in the growler up to 41 hours and cold up to 76 hours
BPA free construction adds peace of mind
Textured grip is glove friendly, keeping hands warm and dry while you pour from the 64 ounce growler
Double hinge tpu lid tether is flexible, preventing wear and tear
Bolt on, high impact, full grip handle ensures you'll never lose the cap
half gallon water bottle