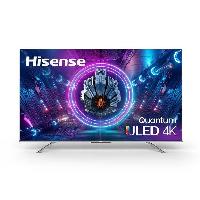 Walmart.com has the Hisense 75U7G Quantum Series 75" Android TV (2021 Model) for $1148.00.
Shipping is $49.97, or price match with Best Buy for free shipping.
I bought and price matched from Best Buy.
RTings review: https://www.rtings.com/tv/reviews/hisense/u7g
According to the RTings review, "The 75" model has an IPS panel". So it may have worse contrast, but better viewing angles.
However, the discussions at RTings here and here and others are not conclusive as to whether it is an IPS, with some users reporting similar contrast to other VA sets.
Also, some discussions at AVSForum also appear to say that the quality is on par with VA panels, for instance, this post and others.
Hisense page: https://www.hisense-usa.com/tv-an…d-smart-tv
Specs: https://assets.hisense-usa.com/as…elease.pdf
TV Stand Width 59.3 x 14.5 inches OR 26.1 x 14.5 inches (the narrow width positioning is good for narrow TV stands).
Local Dimming Yes, 90 zones
Peak Brightness Up to 1000nits
Native Refresh Rate 120 Hz
Audio Output Power (Watts) 15Wx2