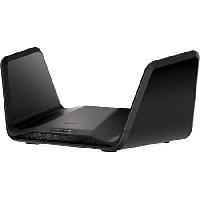 Costco has the following on sale for Costco members.
Netgear Nighthawk Tri-Band 8-Stream AX6200 WiFi 6 Router for $199.99
Costco Item # 1483920, Model: AX8 RAX 78-100NAS
Free Shipping
WiFi 6 – speeds of up to 6.2Gbps.
8-stream Tri-band WiFi
Quad-core 1.5GHz processor
Five (5) 10/100/1000Mbps Gigabit Ethernet ports – 1 WAN & 4 LAN
Includes a USB 3.0 port to connect external storage / hard drive
NETGEAR Armor—Advanced cyber threat protection for your home and your devices
4×4 Multi-user MIMO Using multi-user MIMO technology, routers can stream data to multiple devices simultaneously.
You must have a separate cable modem. That is not included in this router.
Sale good through Sept. 26, 2021.
Regular price is $299.99. It's current $245 on Amazon .
Reviews on Costco.com are 4.2 and are 4.5 on Amazon.