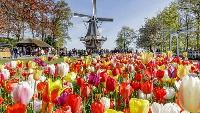 SAS (Scandinavian Airlines) via Orbitz have round trip airfares travelling from Los Angles (LAX) to Amsterdam Netherlands (AMS) for $397, making 1 stop in Copenhagen for several hours. These are SAS Go Light Fares, much like our American 'basic economy' fares and includes one free carry-on bag. Travel light. These fares have a no-change fee policy in case your travel plan changes. Fare difference will apply, if any.
Travel Availability:

Departs LAX: Jan 10-31; Feb 1-11, 13-18, 20-28; March 1-31; April 1-2, 4-5, 26-27, 29
Returns: wide and great availability returns daily
To book this deal, use dates and book it with Orbitz . Want to see more travel deals? Click or .
.