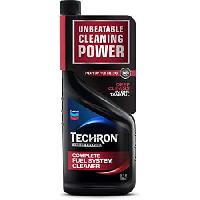 Get it while you can. The previous Hot
Chevron Techron Concentrate Plus Fuel System Cleaner – 20 oz.
$7.99
Amazon
https://www.amazon.com/gp/product/B00092893E/
Also on sale at Advance Auto Parts $7.99 BUT No Rebate. (Rebate not available for purchases made at: Advance Auto Parts, AutoZone, CARQUEST, Costco Wholesale, Menards, NAPA Auto Parts, O'Reilly Auto Parts, Pep Boys, Sam's Club or Walmart.)
https://shop.advanceautoparts.com…/7080568-P
Rebate
https://www.chevronpromotions.com/
Stock up on Savings! – Up to $12 Techron Rebate
Valid from 09/01/2021 to 10/31/2021
Offer valid only at participating locations. View details for specific terms and conditions.
To receive your Techron Rebate:
1. With qualifying Techron purchase receive rebate as follows: 1 of any qualifying product = $3 rebate; 2 of any qualifying product = $7 rebate; 3 of any
qualifying product = $12 rebate, in a single transaction between Sept. 1 – Oct. 31, 2021. Mix or match any 12 oz. or 20 oz.Techron Complete Fuel
System Cleaner, Techron Fuel Injector Cleaner, Techron Diesel Fuel System Cleaner or any 10 oz. Techron Marine and Techron Powersports & Small
Engine Fuel System Treatment.
2. Claim online: Go to www.chevronpromotions.com and follow the instructions to file your claim. You will need to upload a copy of your receipt.
Claim by mail: Complete and submit the rebate form. Include a copy of your retailer identified and dated receipt, clearly showing your Techron
purchase made during the promotion period. Purchase date, brand, container size and number of bottles are required to be clearly indicated on receipt.
Mail-in rebate claims must be postmarked by November 5, 2021 and ALL (mail/online) claims must be received by November 15, 2021.
.