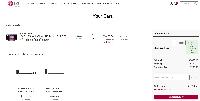 Employee Purchase Plan is required. Try signing up with your work email.
Black Friday pricing ($3475) is available when the TV is added to the cart. The price before adding to the cart is $4250. Shipping to VA comes to about $120 so total before tax ~$3600. Including taxes in VA $3800.
https://members.us.lg.com/store/p…oled-4k-tv
I bought this TV for ~$5k (including shipping+tax) couple of months ago and it is totally worth it.
77" wasn't available at my zip but it is in other locations and it has a more compelling price of $2225 + tax. Added screenshots for both options.