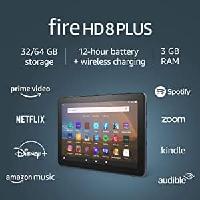 This popular front page deal from beginning of the month is back:
https://www.amazon.com/Fire-HD-8-…PDKIKX0DER
32GB model, Slate color, accept SD card up to 1tb.
8 Plus comes with 1gb more RAM (3gb RAM total), and wireless charging, comes with faster charger (9w, supports up to 15w charging), vs the standard 8 tablet (2gb RAM, 5w regular charger).
I have the Fire HD10 and really like how lightweight it is, perfect to use a consumption device vs the much heavier iPads I have. Because it's so light I can easily use it without fatigue, throw it around, etc. Much easier to use around the house.
This 8 inch device should be great for all around use like in bed, in car, or out and about.