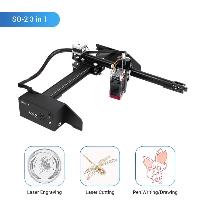 Sovol offers the SO-2 laser engraver and cutter with an also integrated pen plotting function for $189 during the black friday sale. The sale only lasts a few hours unfortunately.
The deal price is for the 5W variant, which normally costs $299
According to the shipping notice the 5W variant ships from the US.
You can use it to engrave a lot of materials like wood, fabric, leather, dark acrylic or foods which are kind of flat for example.
Cutting thin wood should also be possible. With 5W it might needs more than one pass though. Paper and cardboard should cut easily.
You can control it with the free and easy to use LaserGRBL software. There are also many tutorials available for it, just look on YouTube.
Like the laser engraving function, the pen plotter is also something that you can use for creative gifts. It fits any pen up to 0.79" in diameter.
Working Area 280mm*210mm
Laser Head Electrical Power 40 W
Laser Head Output Power 5 W
Mainboard 32 bit
Pen Dimension up to 20mm (0.79 inch) in diameter
Operation System Windows/Mac OS (LaserGRBL/Lightburn software)