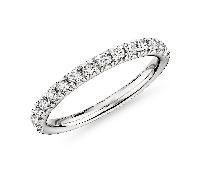 At Blue Nile, save 50% on select items with promo code FRIDAY21 during Blue Nile's Black Friday sale. Shipping is free. (Returns are also free if needed.) Sale prices valid through 11/28/21.
Example deals (prices w/ promo code):
Rokket's Research:
These are Black Friday sale prices; Blue Nile doesn't often discount by 50%.
If interested, you can also enter the Blue Nile Sweepstakes (free to enter, will receive promo emails).