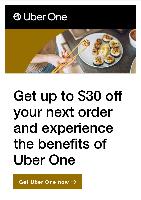 https://www.uber.com/newsroom/int…-uber-one/
Uber Eats : (Select Accounts) Get up to $30 off your next delivery order when you join Uber One (No Min., Max Savings of $30) Last Day
**** Last Day To: Sign-up for UberOne AND to redeem the $30 Promo Credit
**Must follow link received via email, since qualifying accounts will not see promo on their UberEats App.
*2nd Pic provided for reference to reflect that they do apply promo right after you pay for the UberOne service.
Some accounts will get a free trial of UberOne, others at half the price and many will pay the $9.99 price
Can cancel anytime (and even after you use up the $30 promo).
The Small Print:
Max discount is $30 (valid for 1 order) and will be auto-applied after joining Uber One by 12/30/21. Taxes and fees still apply. Delivery only. Cannot be combined with other offers. Exclusions may apply. Non-transferable. US only.
Subscription will auto-renew, and your credit card will be charged $9.99/month or $99.99/year, depending on the plan you select, starting 1 month from initial enrollment in the Uber One free trial and every month or year thereafter at the then-current monthly or yearly rate. In order to ensure continuation of your subscription, you agree we may charge you up to one day before your auto-renewal date. To avoid charges: (1) if you are more than 48 hours before your billing day, cancel in the Uber One section of the app by selecting "Manage Membership," selecting "End membership," and then confirming you wish to cancel your subscription; or (2) if you are within 48 hours of your billing day, contact support to cancel. Subject to your rights under consumer laws, your recurring payment will not be refundable. See app for availability, fees, terms, and conditions.
Must be 21 years or older to accept delivery of alcohol. Benefits may vary based on local and state laws and regulations. Uber reserves the right to curtail benefits as a result of any state, local or regulatory concern with regard to the provision of certain benefits.
Benefits available only for eligible stores marked with the Uber One icon. $15 minimum on most stores, $30 minimum on grocery orders, where available. Uber One Promise is based on the Latest Arrival estimate, determined once you place your order. Uber One discounts are not available for rides booked 30 minutes or more in advance or for shared rides. Other fees and exclusions may apply. Taxes and fees, if applicable, do not apply to order minimums.