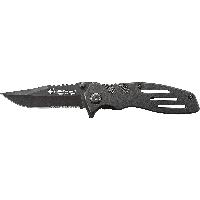 Smith & Wesson Extreme Ops Stainless Steel SWA24S 7.1" Folding Knife $7.49 including free shipping.
Sale price: $9.99
Shipping: Free
Apply promo code: LEGACY20 for $2.50 discount
Final price: $7.49
https://store.smith-wesson.com/ta…WA24S.html
This is a very nice EDC knife. I bought it last time it was on sale at this price. Razor sharp blade. The thumb stud flip opening was stiff when I received it, but after opening and closing it about.100 times and oiling the hinge it now flicks open easily.
This was a FP deal when it was last at this price on 2/10/22.
Link to that previous FP listing.