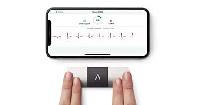 This is a really interesting device I've used for a couple years and paid $150 for it but at $99 it is much more worth it if you have health issues (recovering from serious covid infection, etc.)
It just dropped from $150 to $99 a few days ago.
The only thing I do not like about it is they are constantly trying to upsell you something. But you do not have to buy anything, it will work forever for free and let you export all your graphs to PDF and send to your doctor etc.
https://www.amazon.com/KardiaMobi…B07RQW6SD5
By using your knee as a contact point with both your hands touching it, you get six leads which is the fancy kind they normally only can do in a doctor's office.
Oh another catch is instead of using a common 2032 battery they decided to go with 2016 which is annoying and needs to be replaced about every other year, I just replaced mine.