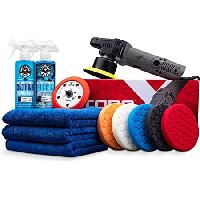 https://www.amazon.com/gp/product…0DER&psc=1
Amazon has this Chemical Guys Complete detailing kit on sale with a 15% off coupon +15% off for subscribe and save:
1. Check the box to select the 15% off coupon
2. Select the subscribe and save option for an additional 15% off
3. Add to cart and check out.
Note: I originally had several other Chemical guys products in my cart that also qualified for both discounts, but when I attempted to buy them all together, only the subscribe and save discount was applying. Checking out with each product individually, I was able to get 30% off:

Order Summary
Item(s) Subtotal:$199.99
Shipping & Handling:$0.00
Subscribe & Save:-$30.00
Your Coupon Savings:-$30.00
Total before tax:$139.99
Estimated tax to be collected:$0.00
I've seen these discounts posted for other chemical guys products, but not specifically on the Detailing kit or any polishers.