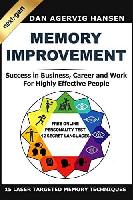 Affordable Price
Print length: 226 pages
Author: Dan Agervig Hansen
#2 in Non-Formal Education
#2 in Education Theory Research
https://www.amazon.com/Memory-Imp…092VT8T8L/
The 12 Secret Languages and the Free Memory Personality Online Test will unlock your Memory Personality. Using the test results, you will be able to use your favorite memory languages to Remember and Learn better, easier and faster.# Using neuroscience and learning theories, you will with the 12 Secret Languages learn to leverage memory techniques that help you remember anything fast and retain it forever. # You will realize which types of memory techniques works for you depending on your Memory Personality. # You will get 15 laser-targeted mem techs, which will help you to continuously stay on target with your goals. You will improve your work efficiency by learning to remember best practices and procedures, and you will create stronger relations with your customers, colleagues and vendors.