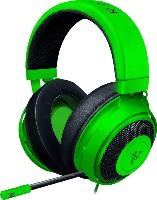 Best Buy has the Razer – Kraken Wired 7.1 Surround Sound Gaming Headset for PC, PS4, PS5, Switch, Xbox X|S And Xbox One for $34.99
Good reviews, but 3.5mm connection. Might be a plus for some, a negative for others. It seems this is only $5 cheaper than previous deals. But $5 is $5
I'm not sure what the differences are between this one and Razer – Kraken X Wired 7.1 Surround Sound Gaming Headset for PC, PS4, PS5, Switch, Xbox X|S, and Xbox One – Black except $5, and color, and "X". But someone else can probably explain.
*** Edit, 50mm drivers vs 40mm drivers is another difference.
Custom-Tuned 50 mm Drivers
Enjoy superior sound clarity and deep, punchy bass for a wide soundscape. Listen to every detail from subtle footsteps sneaking up behind you to climatic explosions that blow you away.
Cross-Platform Compatability
The Razer Kraken is compatible with PC, Mac, Xbox One|X|S, PS4, PS5 Nintendo Switch and mobile devices with a 3.5mm audio jack.
Retractable Unidirectional Microphone
The unidirectional microphone offers crystal-clear team communication. It is retractable and flexible, allowing you to pull it out of the ear cup when needed and adjust for proximity and position.
3.5mm Audio Cable With In-Line Controls
Control the volume or mute the mic so you can stay focused in-game. The extension splitter cable provides full audio and mic access for platforms requiring separate audio output and mic input ports.
Cooling Gel-Infused Oval Ear Cushions
Cooling gel-infused ear cushions reduce heat build-up, while the leatherette rims provide superior sound isolation. The oval design ensures that they house your ears comfortably.
Bauxite Aluminum Frame With Thicker Headband Padding
The Bauxite aluminum frame of the Razer Kraken is lightweight, flexible and extremely durable. A thicker headband padding relieves even more pressure on the head for long-lasting comfort.