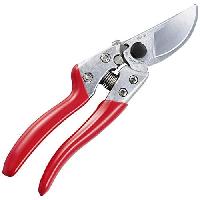 I own a pair of these and they're Japanese cutlery sharp, and have excellent ergonomics (the squeeze to lock closed is unique and very convenient). These Japanese-made ARS pruners are regarded as maybe one of the only pruners that are better than the ubiquitous design of the Swiss-made Felco F2′s. The Felco's are now selling for over $60, but it's a coin toss which pruner is better… so, at only $38, I think these are a relative steal at this price. Even generic Chinese-made Felco knock-offs are selling for $20 or more. Don't just take my word for how good they are, read this Wirecutter review (the review that caused me to purchase them a few years ago).
Here's part of the Wirecutter review on the ARS pruners:

If you yearn for the perfect pruner, you'll finally be satisfied with the ARS HP-VS8Z. This tool was the only model that consistently made perfectly clean, flat cuts in soft stems, woody growth, hardwood dowels, and even ¾-inch buckthorn branches without crushing or tearing anything—and with less effort. The ARS has stunningly sharp high-carbon steel blades that have been tempered for hardness and resilience, and the tight, precise tolerance between the two blades creates a silky-smooth cutting action.
About this item
Squeeze handles to open
Superior, long-lasting sharpness from ARS
Hard chrome plated for optimum protection against rust and sap build up
Ergonomic handles and offset blades for maximum comfort
Replaceable blades
Made in Japan