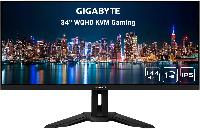 Best Buy and Newegg has the Gigabyte M34WQ 34" 1440 144Hz IPS KVM Ultrawide for $449.99. Both shipping and store pickup (where available) are free.
This is the first time I believe it's gone on sale. In addition, this is a NON-CURVED monitor. According to RTINGS, they added this to their "Best Mid-Range Ultrawide Monitor" and "Best Mid-Range Ultrawide Gaming Monitor" roundups and they scored it a 7.8 for mixed usage and 8.3 for gaming.
DisplayNinja in their review says "While the monitor is not officially certified by NVIDIA as 'G-SYNC Compatible', variable refresh rate works without any issues with compatible GeForce cards within the supported 48-144Hz dynamic range for tear-free gameplay. LFC takes over below 48FPS and multiplies the frame rate in order to prevent tearing (47FPS -> 94Hz)."
From my understanding, what's great about the KVM switch is you can connect your keyboard/mouse to the monitor and use them for two different devices (ie a laptop and desktop). If you switch the monitor input, it also switches the keyboard/mouse to the new device.