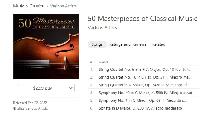 I just saw this album is on sale on iTunes for only $2.99! (It is $9.49 on Amazon, but I'm not mad because it was worth it even at that price.)
https://music.apple.com/us/album/…1642300149
Note: I'm not a Classical Music snob (so I can't compare this to other albums), but this was a solid purchase, and the sound quality is good. There are tracks from Beethoven, Mozart, Haydn, and some others. I've been using this as background music while I work/study.