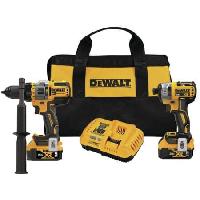 Through tomorrow (9/12/2022), Bomgaars has their Hammer Drill/Impact driver combo for $100 off, plus a free tool with in-store coupon (usually available as you walk in the door). Your choice of a Circular Saw, Angle Grinder, or a second Hammer Drill.
https://www.bomgaars.com/dewalt-b…100p2.html
2-Tool Kit (Reg. Price $399, sale $299)
— DCD999 Hammer Drill (XR, $249 MSRP)
— DCF887 Impact Driver (XR $159 MSRP)
— DCB205 5.0Ah Batt (Qty 2, $200+ MSRP, but seriously who pays that price for these batteries?)
— DCB118 Fast Charger (Fan cooled, not the fastest available but close)
+ choice of one free:
DCG416B Angle Grinder (FlexVolt, $249 MSRP)
DCS573B 7 1/4 Circular Saw (FlexVolt, $279 MSRP)
DCD999B Hammer Drill (FlexVolt, $249 MSRP) (Note, already also included in bundle)
$300 for a great DeWalt starter bundle without the typical 1.5 or 2Ah batteries and the better XR drivers, plus a solid choice for third tool.